Motions To Dismiss In Consumer Law Cases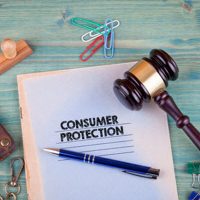 As attorneys who work in consumer protection, we frequently receive questions about the Do Not Call Registry and protections provided to consumers under the Telephone Consumer Protection Act. A recent case decided in the United States District Court Southern District of Ohio Eastern Division, Ansley v. Quantum 3 Media, LLC, highlights one consumer's lawsuit to enforce their rights under the Act, while the defendant company – after repeatedly failing to honor those consumer's rights – attempted to dismiss her complaint (through a motion to dismiss) for failure to state a claim (or, in the alternative, moved for a more definite statement).
When you file a legal complaint, you will frequently face a motion to dismiss from the defendant. It is a legal tactic: The defendant is trying to get your claim thrown out by the court before it receives a full review on the merits. Surviving a motion to dismiss is a key part of winning in a lawsuit. In this case, our Columbus, OH consumer protection lawyers help our client survive a motion to dismiss in TPCA claim. In this article, you will find a more comprehensive overview of the key details of this case, including what our client endured from the telemarketing company.
A Summary of the Case: What Happened and Why it Matters for You 
The plaintiff, Ms. Ansley, placed her personal cell phone number on the Do Not Call registry. Unfortunately, like so many others, she continued to receive unwanted and unsolicited phone calls from aggressive telemarketing companies trying to pressure her into purchasing products and services. She filed a claim to enforce her legal rights under a federal law called the Telephone Consumer Protection Act (TCPA). It is an important consumer protection law:
You may be eligible to recover up to $500 for each violation of the Do Not Call registry. If the violation was knowing and willful, you may be entitled to up to $1,500 in compensation per violation.
The defendant in this case countered with a motion to dismiss. What exactly a motion to dismiss entails will be covered in more detail later in this article, but the key thing that you need to know as a consumer is that a motion to dismiss is a common defense tactic in TCPA lawsuits. The defendant is trying to get your case thrown out of court at the earliest possible stage. We helped our client survive a motion to dismiss. It is a meaningful legal victory. Soon after, the defendant agreed to settle the TCPA lawsuit.
The Bottom Line: You should not have to live with excessive telemarketing. The Do Not Call registry provides legal protections. The TCPA allows you to enforce your rights. We help consumers hold telemarketing companies legally liable for Do Not Call violations.
The Telephone Consumer Protection Act
The Telephone Consumer Protection Act (TCPA) was passed to protect consumers from intrusive nuisance calls from telemarketers, and prohibits two types of conduct: 1) using automated telephone dialing systems to call cell phones and 2) making solicitation calls to residential numbers registered on the National Do Not Call List. In this case, the plaintiff registered her personal cell phone number on the National Do Not Call Registry, however, she still received calls during which she was pressured to make certain purchase decisions. In addition, the caller refused to identify themselves on these calls and, even after the plaintiff informed the defendant that her number was listed on the Do Not Call Registry, the defendant continued to call her.
What Is A Motion to Dismiss?
A motion to dismiss can proceed if it contains "sufficient factual matter, accepted as true to state a claim to relief that is plausible on its face." When a motion to dismiss is made, the court must construe the complaint in a light most favorable to the plaintiff, including accepting all allegations as true and drawing all reasonable inferences in their favor, while the non-moving party must provide more than just "labels and conclusions" or a "formulaic recitation of the elements of a cause of action."
If external information is presented to the court on a motion to dismiss, the court can convert the motion to a motion for summary judgment or exclude this information. Typically, the court will not consider this external information (or exhibits) unless they are matters of public record, orders, items appearing in the record of the case, and/or exhibits attached to or referenced in the complaint.
In this particular case, the defendant moved for a motion to dismiss, claiming that the plaintiff did not adequately allege or establish that it was the defendant who was actually calling her, as well as 1) using an automated telephone dialing system;2) engaging in telephone call solicitations, specifically; and 3) only calling her residential, personal cell phone.
The Use of Automated Systems
In order to meet the standard required to allege that a defendant used an automated telephone dialing system, the courts typically require that a plaintiff allege facts to support the allegation; for example, those concerning the character, content, or nature of the call(s)  – i.e.:
Was there any "dead air" after answering the call? One of the hallmark signs of an automated system, for example, is the receiver hearing a momentary pause when they pick up the phone before someone speaks on the other end
Was there a certain frequency of calls? In this case, for example, the plaintiff received an average of six calls per day, which was found to support a reasonable inference that an automated system was in use
Was there an inability to interrupt whomever called, or talked to a human being, etc,?
All of these factors can be put forth in a complaint in order to sufficiently satisfy the allegation that an automated system was used.
The Definition of "Solicitation"
The TCPA defines "telephone solicitation" as the "initiation of a telephone call or message for the purpose of encouraging a purchase, rental, or investment in property, goods, or services," which is then transmitted to someone without their prior "express invitation or permission" or without the existence of a previously-established business relationship. Given the circumstances of this case, the solicitation requirements were found to be met by the court.
Residential Versus Business Phone Lines
In this case, the defendant attempted to dismiss the complaint because they claimed that the plaintiff received calls on both her personal cell and business phone line. The Court held that, while TCPA claims cannot be brought for calls made on business phone lines, this does not mean that calls that were still made to a residential telephone line that was registered on the National Do Not Call list were not still illegal.
Columbus, Ohio Consumer Protection Attorneys
Finally, in this case, the defendant tried to claim that there was no proof that they were the ones actually making the calls – a frightening prospect, given that telemarketers could try to get around the Act by refusing to identify themselves and blocking their phone numbers from showing up. This is why working with experienced consumer protection attorneys to help ensure that the connection and identity of the caller is established is crucial.
If you have any questions about consumer protection claims, contact our Columbus consumer law attorneys at the Kohl & Cook Law Firm LLC today to find out more about our services.