Unfinished Pool Projects & Consumer Law Violations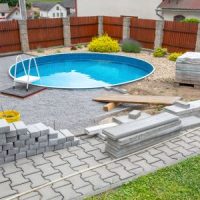 It is unfortunately a story familiar to far too many: A family that is out thousands of dollars after paying a pool company to build their dream backyards, and who are then left with unfinished projects. In a number of cases, consumers report that the work was never even started, and they hit nothing but dead ends trying to get their money back.
Sadly, consumer fraud committed by pool installers and contractors is on the rise, leaving customers with incorrect or simply undone work, and out far too much money. Families will typically pay these companies in installments, with the last of them going out when excavation starts. The hole gets dug, the company gets paid, and suddenly, work and communication comes to a halt. Families are left with a giant hole in their backyards, and still making payments to the lender, with nothing to show for it.
What the Ohio Consumer Sales Practices Act Dictates
In these circumstances, vendors can be sued for violating the Ohio Consumer Sales Practices Act (CSPA) for failure to deliver and/or performing shoddy and substandard work. The law covers contractors involved in assembly, construction, installation, and repair services in the State of Ohio. It covers actions such as soliciting consumers for purchase of products and services; entering into and executing contracts pursuant to these products and services; and accepting payment, while failing to provide the services or refund payments for work within eight weeks of the contract date.
Under the law, contractors also cannot perform services in a shoddy, substandard, and/or unworkmanlike manner, resulting in harm to consumers and, in some circumstances, even costing the consumer additional funds to have the work completed and/or corrected. This behavior constitutes unfair and deceptive acts or practices in violation of the law.
Civil Penalties, Injunctions, & Restitution
The consequences for violating CSPA can include civil penalties, a permanent injunction, and restitution. Injunctive relief can help ensure that the individual, company, its employees, agents, etc. stop acting as suppliers and solicitors of consumer transactions throughout the state, as well as blocking the sale or transfer of any business or personal assets associated with them.
The court will also often order the company jointly and severally liable for reimbursement to all consumers found to have been damaged by the company's unfair and deceptive acts and practices for the full amount of damages, assess and impose upon them a civil penalty of $25,000 for each separate violation.
Reach Out to Us Today
If you or a loved one has been the victim of a consumer law issue, contact our Columbus consumer protection attorneys at the Kohl & Cook Law Firm LLC today to find out how we can help.