Breach Of Contract Claims with Government Parties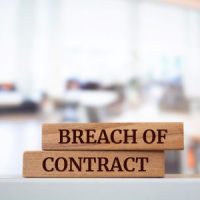 What happens when a breach of contract has occurred, but the party responsible for the breach is the government? And what if the breaching party claims that there is no breach because there was never any authority for that entity to enter into the contract?
Authority
The general rule is that when you enter into a contract with a government entity, no contract exists unless the agent entering into the agreement has the authority to enter that agreement and bind the government. There are four general requirements to form a binding agreement with the government, including the following:
Mutual intent to contract;
Offer and acceptance;
Consideration (or a performance or promise bargained in exchange); and
A government agent or representative who has the authority to bind the government.
For example, if a contractor is entering into a contract with the government, it is incumbent upon that contractor to ascertain what level of authority the government representative has such that they have the authority to bind the government in a contract.
Alternatives
However, if the government representative did not possess the actual authority to bind the government to that contract, the contractor can still meet this particular requirement by demonstrating that:
There was implied authority: Entering into a contract of that nature was an inherent aspect of the government agent's job, duties, etc. However, note that some contracts contain explicit language protecting against the risk of implied using very specific language; or
Ratification of the contract by a supervisor who does have the authority to enter into such contracts, was fully aware of the circumstances involving the contract, and knowingly confirmed, approved, or acquiesced to the unauthorized action of the other agent.
Reach Out to Us Today for Help
Problems that can arise as the result of the government or any other entity refusing to honor an agreement simply highlights how important it is to work with a knowledgeable civil litigation attorney when any kind of contract is being drafted and entered into in the first place, as a knowledgeable, experienced attorney can help confirm what type of authority the government entity entering into the contract has in the first place. And if a dispute already exists, then it is imperative to work with an attorney who is knowledgeable and experienced with breach of contract disputes in order to properly plead such a case.
If you have any questions or concerns about contracts, contact the Columbus breach of contract attorneys of Kohl & Cook Law Firm LLC for a free consultation and find out how we can be of assistance.