Consumer Laws & Tip-Over Accidents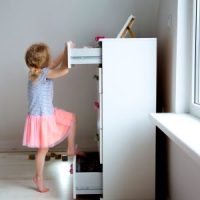 Furniture tip-over accidents are every parent's worst nightmare: Thousands of children – most of them under the age of six – have been injured or killed due to falling furniture and TVs around the country, including here in Ohio.
In fact, by 2022, the issue had become such a consumer protection problem that the Consumer Product Safety Commission issued a report that same year on appliance, furniture, and TV top over injuries and fatalities, demonstrating an annual average in the U.S. of more than 22,000 Americans requiring emergency room treatment in connection with this issue, more than 80 percent of them involving children ages 17 or younger.
The Culprits & Sturdy Act
While, historically, most of these accidents involved a television, due to changes involving flat screen innovation in recent years, the issue has shifted more to dressers and similar furniture, with most of the fatalities involving people being crushed and accruing head injuries.
 However, a new law, known as "the Sturdy Act," aimed at protecting consumers, could now change that: The law requires that any dressers and similar products made in the U.S. must meet specific safety standards concerning strength and sturdiness testing.
Be Overly Cautious
While this new consumer protection law is expected to go a long way in protecting consumers from these types of tragic accidents, it does not remove the need to ensure that furniture and other large objects are properly anchored. Consumer protection campaigns encourage all parents continue to:
Anchor furniture and TVs to the wall
Place TVs on sturdy, low bases, with the TV pushed as far back on that base as possible
Avoid storing items appealing to children in high places, where they could be tempted to climb up to get them
Make sure that any heavy items appealing to children are stored on lower shelves
If older TVs are lying around, consider getting rid of them or at the very least moving them to other rooms, where they are still anchored properly
Ensure that there is adult supervision at all times, even when furniture and TVs are anchored properly
Let Us Help You Today
If you or a loved one has been the victim of a consumer law or protection violation, contact the Columbus consumer law attorneys of Kohl & Cook Law Firm, LLC for a free consultation to discuss your options.
Sources:
cpsc.gov/Newsroom/News-Releases/2022/CPSC-Injury-and-Fatality-Report-Shows-Despite-Some-Progress-Need-for-TV-and-Furniture-Tip-Over-Prevention-Remains-Strong
wsls.com/news/local/2023/02/14/consumer-reports-new-law-to-prevent-furniture-tip-over-incidents/