Motions For Summary Judgment In Contract Cases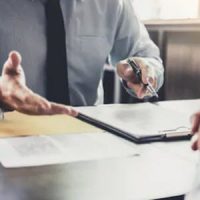 As attorneys who work in general civil litigation and breach of contract disputes, one of the first questions that must be answered in a breach of contract case – and, indeed, can be the subject of the litigation itself – is whether a contract ever existed in the first place. In a contract dispute, if defendants can successfully argue that a contract never existed, they can sometimes prevail on a Motion for Summary Judgement, as was recently the case in a local case in Lawrence County, Ohio, Sanders v. Osborne.
What Is A Motion for Summary Judgment? When No Contract Exists
A motion for summary judgment essentially asks the court to issue judgment on at least one claim and, if successful, a decision can then be made on all the claims without a trial. A trial court can only grant a motion for summary judgment if the evidence demonstrates that:
No genuine issue as to any material fact remains to be litigated;
The moving party is entitled to the judgment as a matter of law; and
After reviewing the evidence in a light most favorable to the nonmoving party, the judge finds that reasonable minds could only come to only one conclusion – that which is adverse to the nonmoving party.
In this case, Defendants argued that a contract never existed, as they did not accept the offer from the plaintiffs within the timeframe that was very clearly set out in the purchase agreement, which required defendants to obtain financing within 45 days. If this condition did not occur, then the agreement was, essentially, not in effect. As a result, because there was no dispute of material facts, the judge ruled that defendants were entitled to judgment as a matter of law, even after reviewing the evidence in a light most strongly in favor of plaintiffs, because the judge reasoned that this was the only conclusion that "reasonable minds" could come to.
These types of disputes are frequent: Parties will, for example, sometimes enter into a Memorandum of Understanding in an attempt to keep their relationship more casual or flexible, or avoid having to retain attorneys, only to come to a dispute and find out that while one party may have assumed that this was the same as an enforceable contract, the other party can successfully challenge this in court.
Columbus, Ohio Contract & Trial Attorneys
When two parties are contemplating entering into a contract, it is essential that that contract is written with the correct terms in order to ensure that it is in effect under the terms that the parties envision. If a condition is written into the contract that is required for it to take effect, and that condition is not met, then the contract can be considered null and void, and this can not only cost the parties time and money, but it can lead to litigation and disputes.
If you have any contract needs, contact our Columbus civil litigation attorneys at Kohl & Cook Law Firm LLC today to find out more about our services.