New Consumer Protection Law "INFORM" Act Goes Into Effect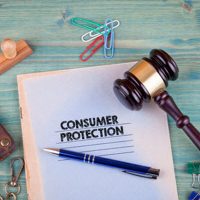 A new consumer protection law that went into effect in late June protects consumers from counterfeit, unsafe, and/or stolen goods: The Integrity, Notification, and Fairness in Online Retail Marketplaces (INFORM) for Consumers Act places requirements on all online marketplaces concerning "high-volume" third-party sellers who sell new consumer products online regarding the disclosure, safeguarding, and verification of certain identifying information, and makes it easier for consumers to hold these entities responsible for suspicious marketplace activity. Violations of the law can result in civil penalties of more than $50,000 for each violation.
The law covers such popular online marketplaces as Amazon and eBay, and requires these businesses to verify and share information concerning their third-party sellers who engage in a certain volume of transactions in an effort to deter bad actors from taking advantage of consumers.
What Is Considered An "Online Marketplace"?
The law defines online marketplace broadly as any entity or person that operates a "consumer-directed electronically based or accessed platform" that:
Includes, allows for, enables, or facilitates a third party seller to engage in the sale, purchase, payment, shipping or delivery of a consumer product in the U.S.;
Is used by one or more third party sellers for these purposes; and
Has a contractual or similar relationship with consumers concerning the use of their platform to pursue products.
This means sellers who had 200 or more separate sales or transitions and $5,000 more in gross revenue in any 12-month period within the last two years, and disclosure requirements apply to sellers with annual gross revenues of $20,000 or more.
What Does It Require, Exactly?
The Act places certain disclosure and diligence requirements on any businesses that fall within its purview, including the need to:
Collect seller identification and bank account information within 10 days of the seller qualifying as a covered seller under the act, verifying this information and collecting any certifications regarding the accuracy of this information at least once/year
Maintain data security information to protect seller information
Disclose identification information of sellers with $20,000 or more in annual revenue from marketplace sales to consumers
Suspend the seller's account if this information and verifications are not provided
Implement a reporting feature on product listing pages
Find Out More From Our Columbus, Ohio Consumer Law Attorneys
The Columbus consumer protection attorneys of Kohl & Cook Law Firm LLC focus on protecting consumers in the marketplace, which can often feel like a jungle full of predatory businesses preying on unsuspecting consumers. We use every tool there is to help consumers fight back in the face of suspicious, illegal activity. Learn more about our services by contacting our attorneys today for a free consultation and assistance.
Source:
cnbc.com/2023/06/27/the-inform-act-takes-effect-targeting-organized-retail-theft.html