Ohio Breach Of Contract By Landlord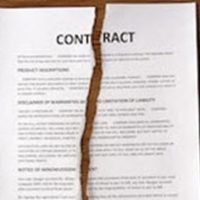 As attorneys who work in civil litigation, we regularly see a number of breach of contract disputes each year. Sometimes breach of contract can occur with the landlord over at lease (or rental agreement/contract), and lease violations can occur in a number of contexts; for example, some of those disputes involve tenants challenging repairs underway at their rental homes.
In addition, renters have the right to ensure that they come home to a residence that is habitable. This not only means that the residence must meet basic, habitable requirements, but landlords must also ensure that there are no dangerous conditions and building code violations present as well – issues such as faulty plumbing, mold issues, leaky roofs, etc.
Draft (and Sign) Contracts Carefully
Even when landlords and renters add addendums to original lease agreements, disagreements and disputes can arise over timelines for repairs when it comes to these written agreements. This is why it is so important to add specific dates into both original contracts and any addendums so as to avoid confusion and or disputes later on. And while in some circumstances, renters may feel that  the lease is void, they may very well be concerned that they could face eviction if they speak up, and this could negatively affect their credit.
Can Tenants Withhold Rent?
It is important to note that there are some actions Ohio tenants can take in the case of breach of contract with their landlord. However, before renters decide to withhold rent for these reasons, it is critical to speak with an attorney who specifically works on breach of contract to ensure that you are acting within your rights. For example, you must ensure that your landlord has been given a specific amount of notice first and a chance to address the issue, and that you are working within the law in terms of how and when you can use this as a remedy, before you actually withhold rent for breach of contract issues. And sometimes, the lease agreement will even provide for under what circumstances it may be terminated.
Do note that when uncertain or vague terms are included in the lease, Ohio courts will typically resolve this uncertainty in favor of the tenant, and there are circumstances under which, in the case of a lease disagreement ending up in court, the rightful party can not only recover damages, but also reasonable attorneys' fees.
Contact Us Today for Help
If you have any questions about breach of contract issues, contact our Columbus breach of contract attorneys today to find out how we can help.