When Messy Contractor Disputes Cause Damage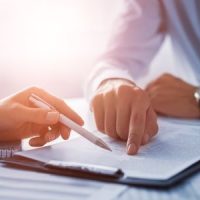 When you enter into a work agreement with a contractor, you expect that work to be done with professionalism and in accordance with the highest standards. Unfortunately, for a number of people who enter into these contracts, it can become frustrating and sad to come home, depending upon whether and to what extent damage has been done.
One of the biggest nightmares for homeowners occurs when there are leaks and water damage as the result of unfinished work and contractor disputes, especially work done on roofs. When water seeps in, there can be damage in every room, including in attics, with damage done to carpets and floors. And the smell can be even more frightening, as the prospect of mildew and mold forming grows.
Association Disputes
Contracts can be entered into between individual homeowners, as well as Homeowners and/or Condominium Associations, which will sometimes hire contractors to replace roofs and do other work on every single building in the community.
Suspension & Delay
In many cases, contractors do not follow the schedule they've been asked to stick to, which can lead families in Ohio in trouble in terms of seasons and weather. And when these projects are left up to another entity as project manager, they can become suspended or otherwise delayed for a number of reasons, including poor workmanship issues and labor shortages, leaving families living in a nightmare.
Payment Disputes
Disputes can also arise when contractors have been paid down payments, or one party claims the contractor has been paid in full and the work hasn't been completed. Issues can also arise when contractors claim they've completed the work, but haven't been paid what they are owed.
Additional Costs & Liens
Additional costs can come up in a number of scenarios, including additional work that needs to be done in order to protect any exposure on buildings, associated damage to walls, carpets, etc., as well as hiring new contractors to come in and finish work that is incomplete.  Sometimes fees that reflect a percentage of the overall cost are tacked onto multiple big projects. Under some of the worst circumstances, a lien can be placed on property for subcontractors that haven't been paid.
Let Us Help You Today
If you have an issue with a contractor, an attorney who specializes in contractor disputes can help you to resolve that problem. You have to be especially careful in circumstances like these, as additional work done to protect or ameliorate sub standard work can end up destroying evidence, to so speak, that the original work was done incorrectly.
Sadly, property insurance often does not cover the damage in the instance of a dispute, especially if work on the project was halted at any point.
At Kohl & Cook Law Firm LLC, we represent individuals and community members who have been affected by damage to their units and/or homes. Contact our Columbus contractor dispute lawyers today for a free consultation to find out more.
Source:
cbsnews.com/miami/news/its-been-a-nightmare-plantation-community-left-with-leaky-roofs-after-hoa-contractor-dispute/