Contractor Disputes & Mechanic's Liens in Ohio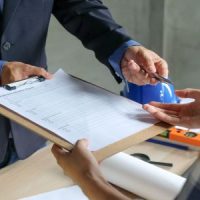 In late June, one Ohio court ordered a home improvement contractor – Neil Wolfe and his company, Neil Construction – who violated Ohio's consumer protection laws over 70 times to pay more than $625,000 in restitution to 19 consumers that the contractor defrauded, as well as $1,775,000 in civil penalties, or $25,000 per violation. The penalties stem from litigation brought against them for allegedly taking payments from consumers for home improvement work and then either failing to perform the work or performing shoddy, incomplete work. The contractor also allegedly failed to register in accordance with state requirements and obtain permits for the work done, and entered into illegal contracts with consumers; amongst other legal violations. Wolfe and Neil Operations has also been ordered by the court to cease all operations and permanently shut down.
There is no question that home improvement and repair are big issues in Ohio. Every year, there are a number of complaints stemming from bad business practices, to scams. When it comes to arrangements with contractors, property owners will want to make sure that any promises made are obtained in writing and the total cost of the project is never paid up front.
How to Respond to Mechanic's Lien
There are also circumstances under which a contractor files for what's  known as a mechanic's lien for nonpayment of services. In order for a mechanic's lien to be enforceable, there are a number of requirements that must first be met, and as a result, a number of invalid mechanic's liens are actually recorded every year, leaving the owner of the property with a number of options, such as:
Filing an affidavit of full payment: Ohio provides a streamlined way for property owners to remove invalid mechanic's liens if the owner has made full payment to the general contract for the amount of the contract or to the lien claimant. In determining total cost owed, if a new contractor had to be brought in to complete the project, this is taken into account in determining whether full payment has been made.
Serve the claimant with a notice to sue: When the lien is invalid or fails to confirm with the statutory requirements, the property owner has the option to service notice to sue on the lien.
Bond off the lien: Ohio law permits a contractor to substitute a bond as collateral for a lien, which discharges the lien and permits the parties to proceed on the claim in a different manner so as to minimize the property owner's damages
Pay the lien: This typically only occurs for relatively minor liens that need to be removed quickly. Once payment is received, the lien must be released within 30 days, or else the lien claimant can face liability for associated damages
No response: A mechanic's lien is valid for a maximum of six years under Ohio law, and these liens cannot be renewed, therefore, the property owner may just choose to ignore it
Contract Our Columbus, Ohio Contractor Dispute Attorneys
If you are dealing with an issue with a contractor, where they have failed to deliver on promises made, you will likely need to take action with the assistance of an attorney to resolve it.  While there are options to address the issue with the Informal Dispute Resolution Process as well as the Ohio Attorney General, it can take a significant amount of time to do so, and there is no guarantee that an investigation will be commenced.
The Columbus contractor dispute attorneys of Kohl & Cook Law Firm LLC are prepared to help. Contact us today to schedule a free consultation and find out what your options are.
Source:
highlandcountypress.com/judge-fines-ohio-home-improvement-contractor-71-violations-ohio-consumer-laws#gsc.tab=0