When Can You Sue For Breach Of Contract?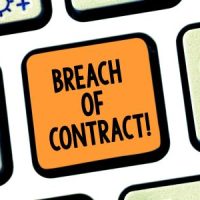 When implementation over a contract goes south, businesses can suffer significant losses, and sometimes the only way to become whole again is to bring a breach of contract claim. A breach of contract attorney can assist you in entering into attempts to settle the dispute with the other party or in filing a lawsuit to enforce those contract obligations or demand financial compensation in its place.
For businesses, these issues can arise not only as the result of another business breaching its contractual obligations, but other parties as well: For example, a software integration company was recently awarded approximately $23 million in its lawsuit against the state concerning a contract for work to implement the state's Social Services' case management system.
Common Circumstances for Breach of Contract Claims
Some of the common circumstances that give rise to breach of contract claims include the breaching party engaging in the following actions:
Ignoring procedures outlined by the contract with respect to the final product or services
Behavior that violates state and/or federal regulations with respect to contractual obligations
Deciding to change the methodology for determining completion of the contract project
Refusing to pay for the agreed-upon work outlined in the contract and/or additional work arranged for
Behavior determined to constitute a conflict of interest with respect to the current contract
Failing to deliver on a contract, which then causes the other business financial damages, such as the need to pay staff for overtime, lost profits, losing a particular business relationship as a result of the breach, etc.
Acting in such as a way as to make it impossible for the other party to perform as required under the contract
Statute of Limitations & Recovery
In Ohio, in order for a plaintiff to recover any damages (or lost profits), they must introduce evidence proving that the company incurred damages as a result of the other party's breach. State law dictates that those damages recovered must be based on that which is established by the evidence with "reasonable certainty," or a "reasonable basis for computing damages, even if [that] is only an approximation."
In addition, the statute of limitations (or deadline to file a lawsuit) for breach of contract claims is eight years for written contracts and six years for oral contracts, and the clock starts 'ticking' as of the date of the breach.
Speak With a Lawyer on Breach of Contract Claims in Columbus & Dayton Ohio
In order to avoid potential breach of contract claims later on, it is advisable to work with a Columbus general counsel attorney from the get-go to help draft the appropriate contract to govern your business relationship. However, sometimes disputes are inevitable. You will want to work with your attorney to provide experts and/or reports to substantiate these damages in a timely manner in order to be made 'whole' again.
If you have any questions about a potential violation committed by another party on an existing contract, our attorneys can help. Contact us at the Kohl & Cook Law Firm LLC today to find out more.
Source:
supremecourt.ohio.gov/rod/docs/pdf/8/2021/2021-Ohio-2769.pdf