Ohio Court Holds it is Not Fair for a Bank to Foreclose on a Family's Home In A Rare Decision for Consumers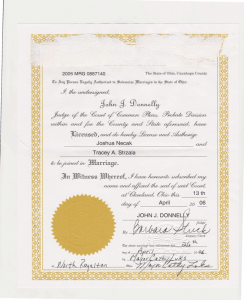 Kohl & Cook Attorney Beats the Bank at Foreclosure Trial
U.S. Bank filed foreclosure against Mrs. Necak on February 9, 2017 in Medina County. Mrs. Necak promptly retained Attorney Sean Kohl to represent her in the foreclosure. In 2016, Mrs. Necak did everything possible to prove her name had changed so she could accept the loan modification that her servicer, Select Portfolio Servicing ("SPS") offered her. Unfortunately, SPS refused to update the modification to Mrs. Necak's married name and repeatedly kept requesting new copies of Mrs. Necak's marriage license to prove that her name had changed almost 10 years earlier. Puzzingly, SPS deemed Mrs. Necak's marriage license insufficient to prove her name change. This decision led to the foreclosure.
Ironically, in 2017, while the foreclosure was pending and without receiving any additional proof of Mrs. Necak's name change, SPS unilaterally updated her name on the account. SPS's simple name change just a year earlier would have allowed Mrs. Necak to accept the modification and avoid foreclosure. Because of this refusal, the parties engaged in over two years of contentious litigation culminating in a bench trial in Medina County. After trial the Court held that fairness did not permit U.S. Bank to foreclose on Mrs. Necak's home.
The Court found that "all relevant information is clearly visible" on the marriage license to prove Mrs. Necak's current name. U.S. Bank objected to the magistrate's decision, stating that it could only find one other instance in Ohio where a Court made such a ruling in favor of a homeowner. Despite its rarity, the Court, in a landmark decision, overruled U.S. Bank's objections and dismissed the foreclosure. Click here to read more of what happened to Mrs. Necak. Mrs. Necak's counterclaim for promissory estoppel against U.S. Bank remains pending awaiting trial. Please contact Attorney Sean Kohl at Kohl & Cook Law Firm, LLC for further questions and continue to follow www.kohlcook.com/news for updates on this case.