Suing Companies For DNC & TCPA Consumer Protection Violations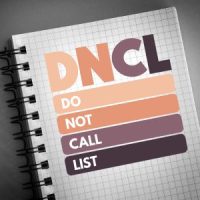 Companies that violate the National Do Not Call law under the authority granted by the Telephone Consumer Protection Act (TCPA), which protects consumers against receiving unsolicited telemarketing calls once they have registered themselves under the "Do Not Call" list, can be sued. It is also important to note that companies can face potentially significant judgments under the law: If, for example, a company is found sending 100 text messages marketing its products to a consumer who is on the Do Not Call list, and who has not consented to receiving such text messages, said company could face a lawsuit just from that individual consumer for $50,000.
The law permits class action complaints to be filed against companies that violate the law, and this not only includes companies that make calls, but also texts as well, to residential numbers advertising their products. And while companies can separately obtain consent from the consumer, and there are exceptions to the Do Not Call rules, violations allow for members of a class action lawsuit to recover $500 to $1,500 per violation from any violating companies (excluding the first call), depending upon whether the court finds that any of the violations were "willful." Telemarketers can also be fined almost $44,000 per violation of the Telemarketing Sales Rule.
Exceptions
However, penalty provisions do not apply to any circumstances where a telemarketer has established a "business relationship" with the consumer; For example, if they entered into a transaction with the company within the previous 18 months or inquired about the company's goods or services within the previous three months. Still, that consumer may still revoke any permissions they have provided at any time.
Looking Ahead: TCPA Lawsuits
In 2021, the US Supreme Court limited the TCPA's reach by narrowly construing the definition of "automatic telephone dialing system," as covered under the law. However, sellers who make telemarketing calls to consumers must still ensure that they comply with Ohio's Telephone Solicitation Sales Act, the Federal Trade Commission's Telemarketing Sales Rule, and the Telephone Consumer Protection Act of 1991. Under Ohio's law, the solicitor must abide by certain rules and restrictions, such as identifying themselves and providing a specific amount of detailed information in the instance of a sale or agreement made during a call, both before and after requesting payment.
Reach Out to Us Today for Help
If you or a loved one has concerns about a consumer protection issue, including a potential violation of Do Not Call rules and requirements or any other consumer law, contact our Columbus consumer law attorneys today to chat about your options.